I was commissioned to hook a 2′ by 3′ rug for the Short Family in Maine as a Christmas gift.  I used my homespun and millspun hand dyed yarns, all of which are wool/ mohair blends  as much as possible but due to the short timeline for producing this rug I also used purchased yarns (details).  Even so I had to spin an extra 2 skeins of Starry Nights yarn for the night sky…can't imagine how long it would have taken to dye and spin all the yarn colors needed for this size rug!  The backing is 100% cotton 13×13 epi Monk's Cloth.
The design was created based on royalty free clipart and photos, then enlarged using Ronyasoft Poster Printer.  The Short family lives on a lake (or pond as they are called in Maine) which has loons and they often have bear, coyote and moose visitors near the house.  Additionally one of the family members worked at a state fishery for many years raising rainbow trout.  The rug was designed as a unique reflection of the Short Family.
| | | |
| --- | --- | --- |
| Back of Rug Before Finishing | | Front of Rug Before Finishing |
| Moose Side, Back of Rug Before Finishing | | Center Front of Rug Before Finishing |
| Bear Side of Rug Before Finishing | | |
 Learnings
Even at this large scale details such as eyes and color markings on the loon did not show as well as I would have liked but the use of finer yarns than in other parts of the rug helped.  The paw prints took a long time because of the many color changes needed and because I used finer yarn to get better detail.  For the coyote I used a tweed (white and grey) yarn to better mimic the color variations in their natural coats.
Working the lines of color around the animal outlines is an area I will work to improve on future projects.  I found it easier to get the shapes to hold true if I hooked the objects then worked the colors directly around them while holding back the yarn that formed the outside of the object from underneath.  Horizontal lines of varying color produced a nice impression of moving water.
Yarns Used
Info on the yarns used is given below.  The picture links to the full description and creation details for the yarn where available.
Colorway: Starry Nights roving
Weight: Sport (12 wpi) 2ply Handspun
Fiber Content: 41% DWF Mohair, 59% Shetland wool
Colorway: Coreopsis
Weight: Sport (12 wpi)
Fiber Content: 50% DWF Mohair – 50% Shetland wool, hand painted (dyed) after mill spinning
Colorway: Aquatics
Weight: Sport (12 wpi)
Fiber Content: 50% DWF Mohair 50% Shetland wool
Weight: Sport (12 wpi)
Fiber Content: 50% mohair 50% shetland wool
Used For: forest and ground
Colorway: Green With Envy
Weight: Sport (12 wpi)
Fiber Content: 50% DWF Mohair 50% Shetland wool
Used For: forest and ground
Colorway: Sky Blue
Weight: Sport (12 wpi)
Fiber Content: 50% DWF Mohair 50% Shetland wool
Colorway: Dark Grey
Weight: DK 2Ply Millspun
Fiber Content: 68% DWF Mohair 32% Shetland, Blue Faced Leicester Wool
Colorway: White
Weight: Sport (12 wpi) 2 Ply Millspun
Fiber Content: 50% DWF Mohair 50% Shetland wool
Colorway: Tan
Weight:Worsted (9 wpi)
Fiber Contet: 50% DWF Mohair 50% Shetland wool
Used For: moose antlers, bear muzzle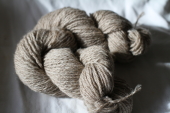 Weight: Sport (12 wpi) 2 Ply Millspun
Colorway: 114 Storm
Used For: body of moose and bear
Saco River Dyeworks (Maine) 6ply rug yarn
Colorway: Black
Used For: Paw prints, edging around animals, loon, canoe
Save
Save