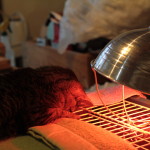 Always helpful, Jasper gave the baby chicks lots of attention.  Of course after above average March temperatures, April has been well below average.  Thus the chicks arrived on the coldest day (24 degrees F) since late January.  They are all fine although issues with the brooder light caused about an hour of worries trying to get the temperature correct.
You can tell when baby chicks are unhappy as they make a lot of noise.  Happy chicks are silent or talk to one another in very soft cheeps.  All the noise made them even more attractive to Jasper.
When baby chicks go into the brooder I give them water that is quite warm, about 98-100 degrees F as they will want to drink a lot and it's important that the water doesn't chill them.  After a few hours ambient water temperature water is fine.
They do a lot of sleeping the first day, but it is amazing how quickly they catch on to eating and drinking.  I start feeding them by sprinkling food on paper towels and by the end of the day have progressed to an open dish.